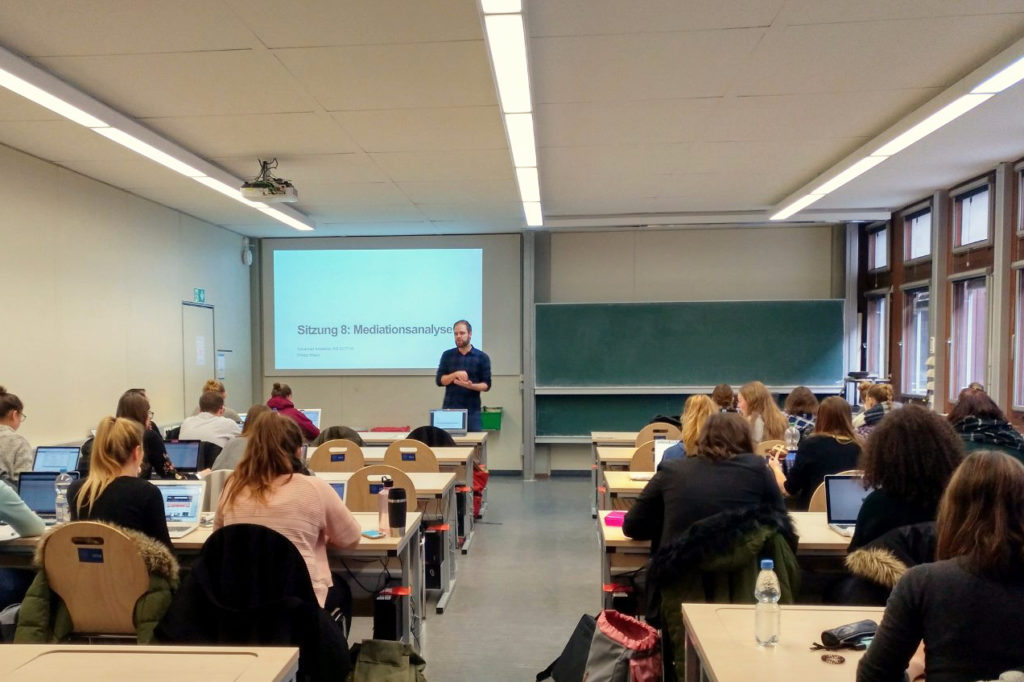 As a teacher, I believe the most important goal is to encourage students' motivation to learn, explore and embark on a journey of self-discovery and personal growth. Being enthusiastic about learning is a key driving force to each student's success and thus a pillar of my teaching approach. I seek to create a safe and inspiring environment where students can develop a grounding in the most important methods and theories, learn core abilities necessary to link content and findings from different disciplines, and learn to evaluate concepts and ideas with regard to their practical, ethical, and societal implications. Furthermore, I aim to build the confidence and self-efficacy necessary to explore, question, criticize and engage with academic research, with the ultimate goal of producing work that embodies societal, theoretical, and pragmatic value.
I want to inspire students to challenge themselves intellectually, to look "beyond the horizon" of existing approaches or methods, and to think critically and creatively. Although I strongly believe that students have to know certain theories, approaches, key studies, and methods, I also believe that it is equally important to foster a mindset that allows them to ask relevant and timely questions. Today, a key skill is being able to connect the dots of acquired knowledge that may seem unrelated at first sight. Understanding underlying principles and applying them to new problems is thus a key aspect of my teaching.
Throughout my education, I had the opportunity to meet wonderful classmates, teachers, and mentors to whom I am deeply indebted for providing a truly positive and inspiring environment for my personal growth. Yet, I know that not all students necessarily have such an experience. It is thus my goal to create and promote a classroom climate of inclusivity and safety, especially for students who may have experienced personal bias or discrimination. To this end, I offer personal counseling and one-on-one opportunities to talk about individual problems and challenges. I further treat sensitive topics or societal issues in ways that prioritize respect for all human beings. It is my goal that all students feel comfortable and motivated to take my classes.
I have taught several courses for undergraduate and graduate students in the Department of Communication at the University of Hohenheim, the Department of Communication at the Johannes Gutenberg University Mainz, and in the Department of Communication Science at the Vrije Universiteit Amsterdam. Furthermore, I have taught several method workshops for researchers (e.g., at FU Berlin, the University of Rostock, the University of Hannover, or the Cornell University). If you are interested in learning R, we host an open repository for R tutorials (handouts and video tutorials) at https://github.com/ccs-amsterdam/r-course-material. I also sometimes post R tutorials on my youtube channel.  In the following, you can find an overview of the courses and workshops that I have conducted throughout the last years.
Courses at the Vrije Universiteit Amsterdam
Privacy, Self-Disclosure, and Big Data
lecture and practical sessions, graduate level, spring 2023
Computational Analysis of Digital Communication
lecture and practical sessions, graduate level, fall 2022
Privacy, Self-Disclosure, and Big Data
lecture and practical sessions, graduate level, spring 2022
New Media Challenges
lecture, undergraduate level, spring 2022
Computational Analysis of Digital Communication
lecture and practical sessions, graduate level, fall 2021
Public Relations and Reputation Management
lecture, undergraduate level, spring 2021
Social Sciences for Society: Networks II
lecture, undergraduate level, spring 2021
New Media Challenges
lecture, undergraduate level, spring 2021
Marketing and Persuasive Communication
lecture, undergraduate level, fall 2020 
Marketing Communication and the Consumer
lecture/seminar, graduate level, fall 2020 
Courses at the Johannes Gutenberg University Mainz
Data analysis using SPSS
seminar, undergraduate level, spring 2020
Experimental Methodology
seminar, undergraduate level, spring 2020 
Concepts and Theories of Communication Science
seminar, undergraduate level, fall 2019
Reading, Understanding, and Writing Scientific Texts
seminar, undergraduate level, fall 2019
Survey Methodology: Media Use and Effects
seminar, undergraduate level, spring 2019
Courses at the University of Hohenheim
Media Enjoyment: Implications of Video-On-Demand Services
seminar, graduate level, spring 2018
Advanced Statistics
lecture and seminar, graduate level, fall 2017
Media Enjoyment: Permanently Online, Permanently Connected, Permanently Entertained?
graduate level, fall, 2017
Advanced Statistics 
lecture and seminar, graduate level, fall 2016
Advanced Statistics 
lecture and seminar, graduate level, fall 2015
Current Topics in Media Psychology: Self-disclosure in the Social Web
seminar, graduate level, spring 2014

Measuring Online Privacy Literacy: Content Analysis and Scale Construction
seminar, undergraduate level, fall 2013

Current Topics in Media Psychology: Online Privacy
seminar, undergraduate level, fall 2014
Current Topics in Media Psychology: Online Privacy
seminar, undergraduate level, fall 2013
Current Topics in Media Psychology: Excessive Usage Patterns on the Internet
seminar, graduate level, spring 2013
Workshops for researchers
Bayesian Statistics in R
fall 2022, Johannes Gutenberg-Universität Mainz
Data Analysis with R for the the Faculty of Social Sciences
spring 2022, Vrije Universiteit Amsterdam
Preregistering Research: What is it about and why is it important?
spring 2022, Vrije Universiteit Amsterdam
Test Theories and Scale Development with R
spring 2020, University of Würzburg
Data Visualization with R
fall 2018, Cornell University
Statistical Data Analysis with R
spring 2018, Johannes Gutenberg-Universität Mainz
Learning R
spring 2018, University of Hanover (with Frank M. Schneider)
Increasing Privacy: Empowerment or Paternalism?
fall 2017, Duisburg (with Tobias Dienlin)
Introduction to Statistical Data Analysis with R
spring 2017, University of Erfurt (with Frank M. Schneider)
Statistical Data Analysis with R
spring 2017, Freie Universität Berlin
Analyzing Experience Sampling Data: Multilevel-Analysis with R
spring 2017, University of Rostock
Workshops at schools
Online Data Protection
spring 2017, Körschtalschule, Plieningen (with Doris Teutsch)